JURIES
審査員
Introduction of the juries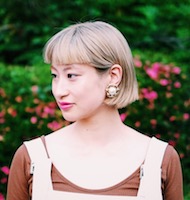 STUDIOUS ウィメンズバイヤー
澤之井 頌子
STUDIOUS WOMENS Buyer
Shoko Sawanoi
1989年京都生まれ、立命館大学卒業後、ファッション商社へ入社。海外ブランドの日本小売店への卸しに携わる。
2014年(株)STUDIOUS(現(株)TOKYO BASE)に入社。セールス、マネージャーを経てウィメンズバイヤーへ就任。
セールス、マネージャーを経てメンズバイヤーへ就任。

Born 1989 in Kyoto, Japan.
After graduation from Ritsumeikan University, started work in the fashion trading company, and introduced international brands to the domestic retail stores.
In 2014 joined STUDIOUS Co., Ltd. n/k/a TOKYO BASE Co., Ltd.
Successively held posts of Sales, Store Manager and became a STUDIOUS WOMENS Buyer.
Interview/Report
∧