showroom.tokyo S/S 2018
Report / July.21.2017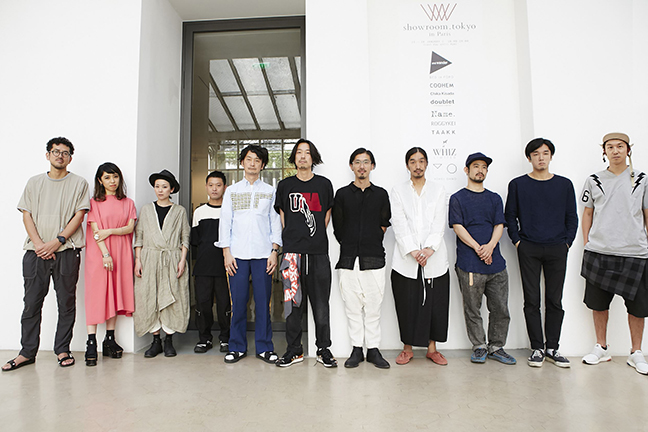 左から、池内啓太[and wander]、幾左田千佳[Chika Kisada]、興梠景子[ROGGYKEI]、清水則之[Name.]、大江健[Coohem]、井野将之[doublet]、興梠仁[ROGGYKEI]、山岸慎平[BED j.w. FORD]、森川拓野[TAAKK]、大野陽平[YOHEI OHNO]、下野宏明[WHIZ LIMITED](すべて敬称略)
6月23日から28日まで本事業単独のショールーム「showroom.tokyo」をパリにて開催しました。
6回目となる今回は、昨年10月に発表された第3回受賞デザイナーの6ブランド(doublet、Chika Kisada、ROGGYKEI、TAAKK、YOHEI OHNO、BED j.w. FORD)と、第2回に受賞し継続支援を受けている4ブランド(and wander、Coohem、Name.、WHIZ LIMITED)がVNH Galleryに集まり、2018春夏コレクションを展示いたしました。
6日間の会期中、10 CORSO COMO、BROWNS、DOVER STREET MARKET、Harvey Nichols、SSENSE、STORM、Lane Crawfordなど有名店を含めた世界各国のバイヤーが集まり、150件以上のバイヤーアポイントを実施。プレスやファッション業界の方々も含めると合計180組以上が来場するなど、盛況のうちに終了しました。

"TOKYO FASHION AWARD", held its original showroom exhibition in Paris, "showroom.tokyo", between June 23 - 28. A total of 11 brands, 6 award winning brands of the 3rd Award of last October, and the 4 award winning brands of the 2nd Award, receiving continued support, exhibited their 2018 S/S collection. The exhibition ended in a great success, with approximately 150 buyers visiting the showroom over the 6 day period, surpassing the number of buyers visiting last time, and if we include media and interviews, there was a total of 180 visitors.
Date:2017年6月23日(金)~28日(水)
Friday, June 23 - Wednesday, June 28, 2017
Location:VNH Gallery (108 rue Vieille du Temple, 75003 Paris)

Brands:
【TFA 2017 winners】
doublet / Chika Kisada / ROGGYKEI
TAAKK / YOHEI OHNO / BED j.w. FORD

【TFA 2016 winners】
and wander / Coohem / Name. / WHIZ LIMITED
TFA 2017 winners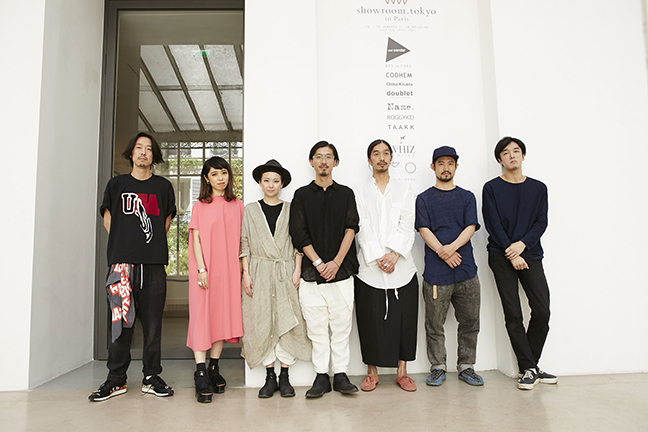 TFA 2016 winners